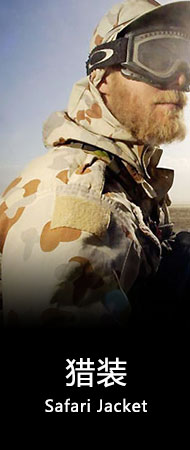 Safari Jacket
Gaoer is an outdoor clothing factory, who is strong, honest and trustworthy, has been engaged in the design, processing and production of outdoor clothing since 2007.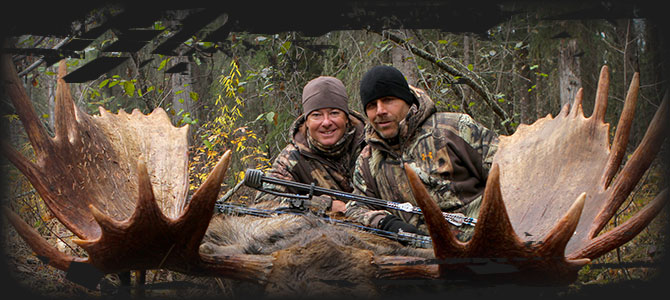 Gaoer company has a full set of outdoor clothes production equipment for Japan "Brother" and German "Fuke", by decades of professional technicians working strictly controlling, ensure that every piece of clothes is perfect from moulding, cutting, and one full dress. In order to improve the qualified rate of uniform product, our factory adopts clothing precision control system (UACS) to optimize combination on the size of the data, optimize the whole process of garment production. Thereby greatly improving data accuracy, and reduce the repair rate. from the design of imaging and size data, optimize the whole process of garment production, thus greatly improving the accuracy of the data. To reduce the repair rate.
Fine workmanship
Fully customized, combined with national environment. According to standards to complete production tasks.
The production of Gaoer outdoor Hunting clothes, mainly to outdoor camouflage hunting clothes. r outdoor wear; a short - and long sleeved points, and spring and summer and autumn and winter of the other.
Camouflage hunting styles varied, with a relaxed, many bags, and practical. Especially focus on the hidden advantage of color, Pocket rationality , and the cuff pocket take-up and windproof function.
Fabric
Hunting the fabric selection and a wide range of natural fibers, such as cotton, cotton blended; synthetic fiber, such as polyester, in length, it can make the card. Spring and summer hunting selection of cotton polyester or cotton fabric. The color is suitable for hidden jungle camouflage!
The performance standard for professional hunting
In outdoor sports, resist the rain, and quickly import moisture in the body to maintain the internal temperature
Professional windproof, waterproof, breathable fabrics, surface mute treatment, moving grass unusually quiet.


Cutting
Production department adopts laser cutting and stereo cutting. The cutting team which consists of more than ten cutting experience professionals for ten years or so is equipped with knife cutting, which can better grasp the accuracy and rationality of cutting.
There needs 24 hours in advance of loose cloth processing before cutting, also pay attention to the warp and weft direction of fabric. It take to ensure that the warp and weft fabric spreading infrared fit accuracy for tailored type work clothes, each piece shall be numbered and sequence placement.
The three-dimensional cutting can make the elbow, knee and other parts of the clothes more closely linked with the human body curve. Make people feel more comfortable, stretching the human body without restraint.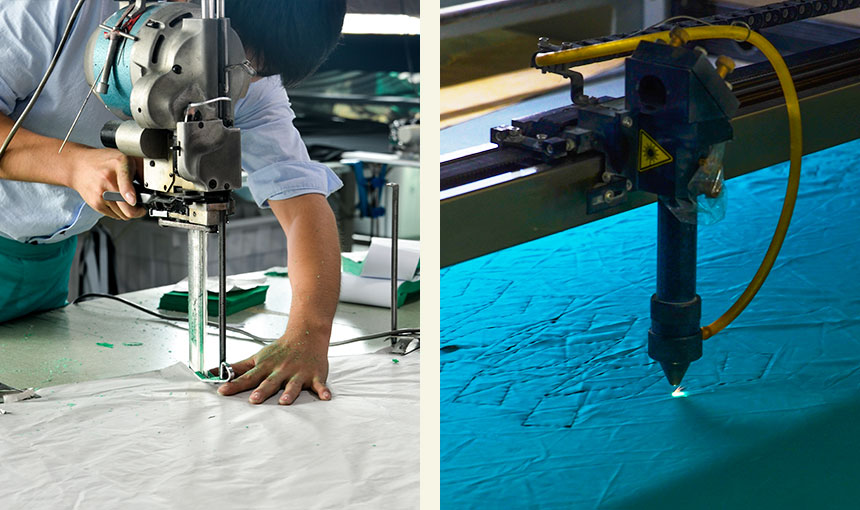 Sewing
According to different types of fabrics with special machine needles, suture. All of the adhesive products are sewn by machine with knife to ensure uniform , special parts are back processing, to ensure the work clothes firm, windproof, and crisp.
Summer clothes with short sleeve & overlock sewing as the main aspect ; Winter clothes with back reinforce, thermal insulation, durable as the main aspect.
Craft is the skeleton of clothing
Using high quality bold light wire, the whole clothes are full package production process, all seams bartack reinforcement, strong durable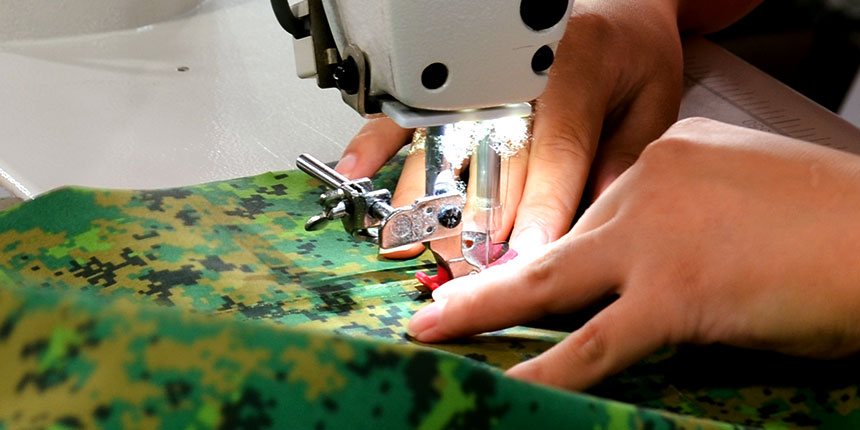 Special Technology
Three laminating taped seams
All clothes produced by our company are treated with three laminating taped seams to ensures all products windproof, rainproof and durable.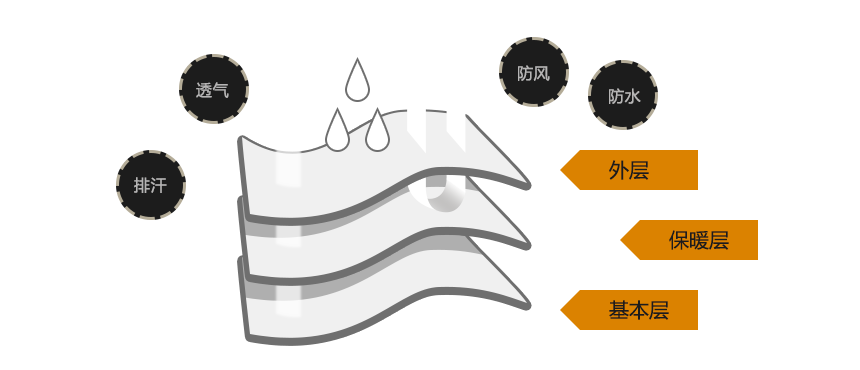 Invisible Zipper
Invisible waterproof zipper through professional heat press processing, more can reflect its beautiful, windproof, rainproof function.


Detail processing
Inspection processing details
The shoulder, elbow and wear-resisting layer; middle and lower part of a wind foot, to prevent the wind from the bottom into clothing; armpit with breathable zipper, in sweat more cases can be directly opened air; the built-in cap, so you can put away when not in use. Different styles of color design, and special details: such as in the cuffs have small hang button, and so on.
Inspection processing details
Every piece of clothing from in- line inspection, itinerant inspection, full inspection of garment, and Inspection prior to shipment, etc. Through each inspection, to ensure each garment is consistent with customer index matching, and long-term to maintain more than 97% customer satisfaction.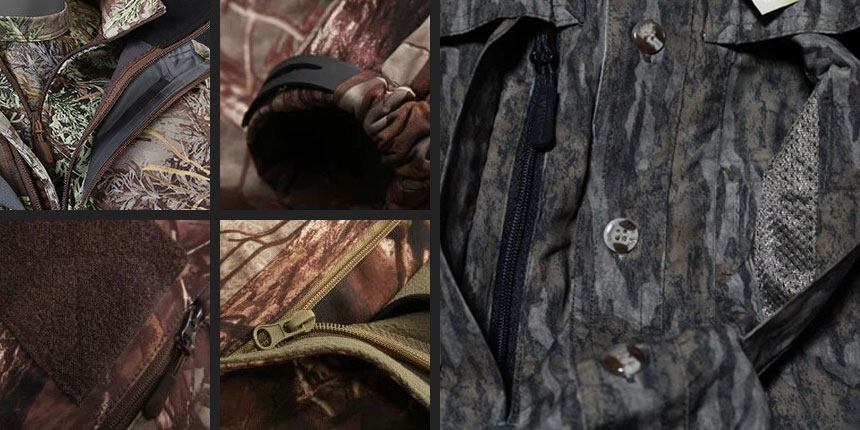 Gaoer's strength
The interior of Gaoer
Gaoer has a professional clothing team, with 280 employees. And 12 large production lines. Annual output more than 1,000,000 pieces.
Skilled operation team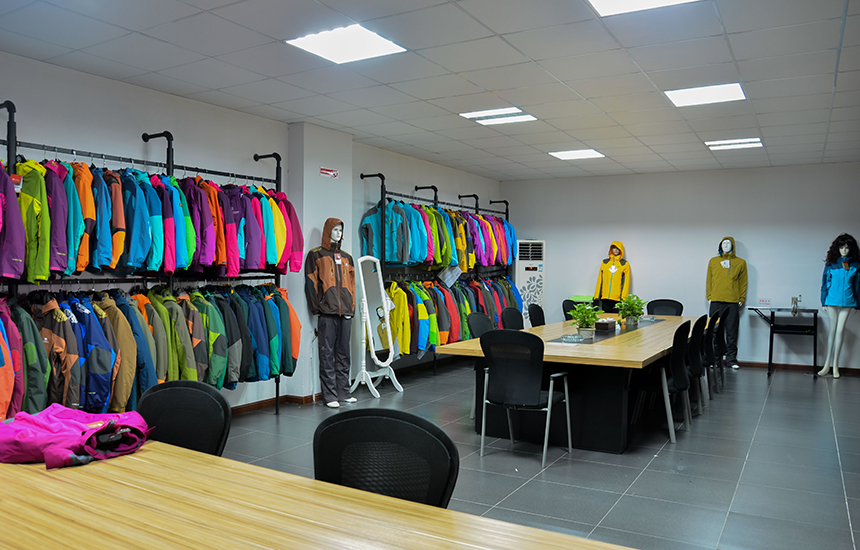 The equipment of Gaoer
Professional equipment more than 200 machines, including heavy machine computer one needle machines, Lockstitch trimming machines, Laser cutting machine, Hot Air Seam Sealing Machine, Seamless press machine, needle inspection machine, button attached machine, Knotting machine, Overlock stiching machine, cutting machine, keyhole machine, Measuring water machine and so on.
Advanced production equipment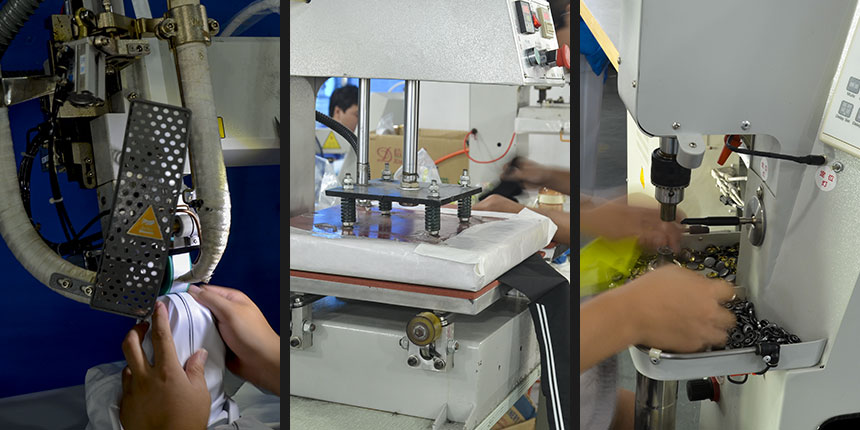 The configuration of Gaoer
With a number of high-end domestic suppliers and foreign suppliers cooprate for a long-term cooperative relations, to ensure quality stability, good price, and delivery efficiency.
The case of service
After years of unremittingly efforts, Kunshan gaoer clothing company has a long-term stable strategic cooperative relations with many well-known outdoor clothes companies, such as: China Maritime Affairs, Germany Electric Power, Japan post office, Canada Bus etc.